"A neighborhood teenager who had never tasted an Asian pear-and insisted that he didn't like pears-was blown away when he bit into a pear from our tree. This sense of discovery and joy is what the orchard is all about to us."
-Andy Jickling, Grumblethorpe Orchard
We thank you for supporting our vision of a more beautiful, bountiful Philadelphia!
Here are some highlights from our fall season:
Planted or expanded 9 community orchards in Philadelphia with 214 new fruit & nut trees, 121 berry bushes & vines, and 1589 perennials and groundcovers
Assisted with brand new orchard plantings at the Philadelphia Prison Systems complex, Tablespread Farm, Gorgas Park, and UPenn campus.
Celebrated our 4th annual Philadelphia Orchard Weekend in October with over 1700 participants at 11 harvest festival and volunteer events in orchards across the city
Helped to found a national Community Orchard Network to share knowledge and best practices with other urban orchard organizations and enthusiasts
We hope you will take a few minutes to read below about some of the interesting people and stories we encountered along the way.
POP's Robyn Mello supervising tree planting at the Philadelphia Prison Systems Orchard!
Photo courtesy of Stephen Dyer/Grid magazine.
Please read below for more info about POP's latest efforts:
fall season summary
orchard partner stories
2014 POP orchard survey results
orchard report: Earth's Keepers
more orchard partner stories
how you can help!
Fall 2014 Season Summary
Harvest, Gleaning & Preservation
During the Autumn harvest season, POP organized two urban fruit harvesting events to wrap up the new Gleaning Program's first year. In September, nearly 20 volunteers joined POP to pick close to 40 pounds of crabapples from trees on UPenn's campus. Every participant went home with some crabapples to experiment with their own recipes. A few volunteers spent the whole day with POP–first, harvesting, and then making crabapple jelly and learning basic canning procedures at the Center for Culinary Enterprises with Molly Haendler, owner/operator of Spruce Hill Preserves in West Philly. The jelly was delicious and vibrantly pink!
Harvesting abundant crab apples on UPenn campus! 
In October, in conjunction with POP's Orchard Weekend events, Robyn organized a smaller ginkgo nut harvesting event during 
Historic Fair Hill
's Orchard Day. Six people came specifically for the harvesting event, and a handful of curious volunteers from the day's other activities harvested as well. The nut is housed within the foul-smelling ginkgo fruit that Philadelphia residents so often complain about, but it's actually quite nutritious. If more residents harvested this abundant resource, sidewalks and streets wouldn't be covered with the fruits to be crushed by cars and feet–the cause of the smell.
In 2015, POP's Gleaning Program will be expanded to include more events, such as harvesting of juneberries, mulberries, wineberries, crabapples, and ginkgos within public areas of the city and harvesting other fruits and vegetables in private yards and farms both within and outside the city. If you would like to get involved, 
please join our new popharvest listserv
 to be notified of planned events and last-minute gleaning opportunities. You can also help to collaboratively plan events and share harvest locations as produce ripens. Please email robyn@phillyorchards.org if you would like to be manually added to the group or if you have any questions.
Orchard Plantings.  
POP's core mission of planting new community orchards in the city continues to expand.  Over 300 volunteers joined with our partners at 9 orchard planting events this fall.  Brand new orchards were planted at the Philadelphia Prison Systems facility in NE Philly, with Tablespread Farm in West Philly, with Teens 4 Good and North Light Community Center at Gorgas Park in NW Philly, and on UPenn campus. We expanded existing orchard sites at Solid Rock Church, Fairmount Park Horticulture Center, Awbury Arboretum, and the Sayre High School Garden. To read more about all our orchard partners and view a map of POP sites: 
phillyorchards.org/orchards
.
Philadelphia Orchard Weekend.  
This year we expanded our 4th annual Philadelphia Orchard Day into a full weekend of events!  In all, 1700 Philadelphians celebrated at a wide range of orchard events in neighborhoods across the city.  Activities included harvest festivals, orchard tours, cider-pressing, tree planting, cooking workshops, gingko harvesting, arts & crafts, and POP's annual plant sale & tree giveaway.  11 participating POP sites included Awbury, Bartram's Garden, Fair Hill, Francisville, Grumblethorpe, Mill Creek, Solid Rock, South Philly, Teens 4 Good, Tertulias, and Woodford.  All events featured apples donated by 
PhillyFoodWorks
, an innovative urban farm share/CSA.
Cider pressing at Mill Creek Farm, one of 11 Philadelphia Orchard Weekend events!
POP Survey Partner Stories!
"[One of our young helpers] had never picked fruit from a tree before. Once we saw the peach tree had ripe fruit, she reached up and picked the most perfect peach I have ever seen. She looked to me for the 'okay', and when I nodded that it was good to eat, she bit into it and her eyes immediately lit up and went wide! Juice ran down her chin, and she began jumping up and down. She let everyone else have a bite-even me. It was the best peach. Then we cooled off in the fire hydrant."
Bri Barton, Historic Fair Hill Orchard
"Over 1,000 visitors to the farm got to tour the space and learn that, among other things, almonds can grow in Philadelphia! This lesson extended in the demonstration to show the diversity of the orchard and other types of trees that can be grown in this temperate zone."
Ty Holmberg, Bartram's Garden Orchard
"The middle school-aged kids who planted the berries [at McVeigh Recreation Center] took so much pride in the new addition to the garden, teaching younger children about the patience and care needed to help these perennial plants thrive. They earnestly shared the ten or so raspberries that they harvested this year, and are steadfastly protecting their planting so they'll be able to have a growing harvest for years to come."
Annie Preston, Philadelphia Deparment of Parks & Recreation
"While there weren't enough apples to share with everyone in the community, a few of us had enough for snacks while working in the garden for a couple weeks, and that was a sweet thing…. When the trees anchor the garden, they help the garden give back without us having to do hardly anything extra."
Marlon MacAllister, Mercy Edible Park Orchard
"The day we put in the new beds for the orchard, we overheard 3 of the little boys helping us-about 8 or 9 years old-talking. One said to the other, 'This is so much fun! I wish we could do this more. We never get to do anything in my house.' The other boy responded, 'In my house, we just sit in front of that stupid television.'"
Reverend Margret Powell, Solid Rock United Methodist Church Orchard
"People who live in the building overlooking the orchard used to look out on an overgrown short dumping site. Now, they see grass, shrubs, and young trees, and they are thrilled."
Marjorie Russell, Tulpehocken Orchard
"For our many volunteers, visitors, and even staff, there is a consistent expression of awe and wonderment expressed by a few words-'I have never seen a fruit tree, that variety of fruit tree, or a particular fruit growing in my life.' Moreover, visitors, farmstand customers, and volunteers express their admiration and surprise regarding the orchard and the variety of fruit trees."
Michelle Lawson, SHARE Food Program Orchard
POP Orchard Survey Snapshot!
In all, 41 of 50 total POP partners (82%) participated in our annual Orchard Partner Survey at the end of 2014.  Our partners rated "Educational Opportunities" on average as having the "highest value", though our more established orchards rated "Food Production and Distribution" most highly. The most common theme of stories relayed was the value of educating and exposing people to freshly grown fruit, in many cases a new experience for visitors, especially children.  Partners also described the value of the orchards in terms of their function as community gathering spaces and opportunities to teach about the food system, food forests, and ecology.
Total POP orchard usage in 2014 included 303 people participating regularly in orchard care, 2,015 participating at least once, 2,530 tasting something from our orchards, 4,187 using them as gathering space, and 3,721 participating in educational programs. Though each partner has different distribution plans according to their neighborhood & mission, 24.4% of harvested produce was distributed for free directly to community members, and 25.4% was harvested for free by orchard visitors. This means of distribution often makes it difficult to track actual yield, but overall estimates from partners showed that orchards produced at least 2,500 pounds of produce in 2014, with peaches/nectarines (176lb), plums (158lb), Asian pears (155lb), serviceberries (129lb), strawberries (279lb), raspberries (245lb), asparagus (190lb), and blackberries (175lb) producing the highest yields overall.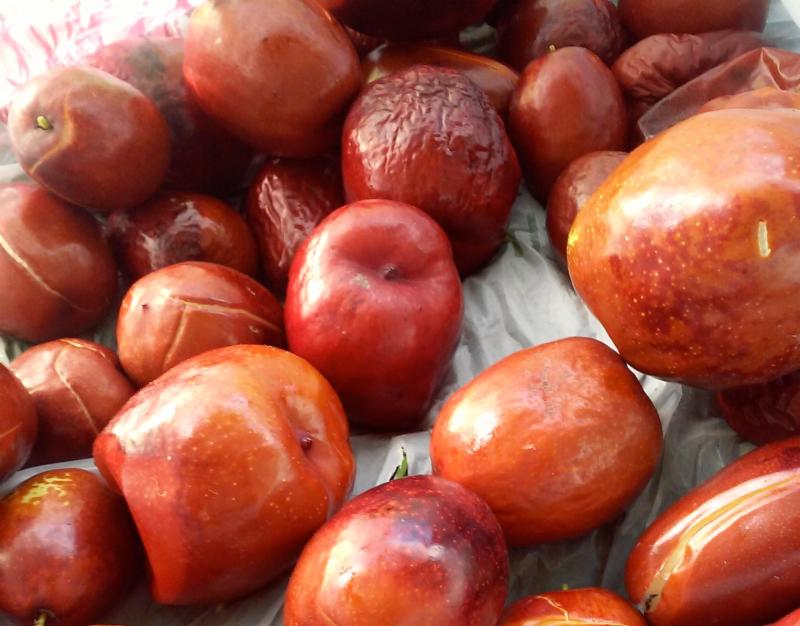 Fall 2014 Jujube harvest at the SHARE Food Program Orchard!
Many of our orchards are still too immature for high yields; however, some older orchards are also experiencing some production challenges that POP is working to tackle over our upcoming seasons through more site visits & educational outreach. The most common problems reported were squirrels, birds, weeds, and insect pests. Over the next year, POP's Education Committee and Orchard Committee will continue to work with orchard partners to provide workshops and resources to improve orchard production and tackle challenges. One successful new means of support in 2014 was our series of monthly or bimonthly "POP Tips" emails to all orchard partners and liaisons on topics including orchard care, harvesting, and preservation.  These tips were very well received by our partners, and we will look to expand this service in 2015.
Orchard Report: Earth's Keepers Farm
Earth's Keepers Urban Farm is under ice and snow right now, but when the weather warms up the corner of 51st and Kingsessing will be full of fruit, vegetables, and most importantly, community members.  The ¼ acre farm was started by community activist and educator Alia Walker and her partner Safiyah Abdul Latif after a community garden they helped to found was limited to adults.   Alia and Safiyah wanted to pass on their knowledge to the next generation.
They originally started a youth agriculture program at Mill Creek Recreation Center and then moved to their current location at Kingsessing Recreation Center in 2011 when it offered more growing space.  Since then the youth agriculture program has grown to include after school and full time summer programs for high school aged youth, an onsite summer camp for elementary aged children, times when toddlers visit from local daycares and a whole group of volunteers and elders who weed and spend time in the garden.  Alia finds that, "children listen better to other children than they do to adults," so the youth teach the toddlers and children how to grow and eat fresh food.
Earth's Keepers founder Sister Alia Walker!
The mission of Earth's Keepers is to educate and organize youth and their families about the rights of all peoples as it pertains to food sovereignty while growing healthy organic foods.  In the predominately African American and African immigrant communities surrounding Kingsessing Rec Center, they teach how black history, civil rights, human rights, and black power intersect with the issues of food sovereignty and health.  For Alia this is particularly important because, "even though violence is present, health and disease is a major cause of death in the community."   Youth members of Earth's Keepers understand the correlation between heart health and what they eat.
In 2011 Earth's Keepers partnered with POP to plant their first orchard.  The orchard is going into its 4th season, but already it is bursting with fruit.  There is a long everbearing strawberry patch next to high tunnel, and another patch of blueberry bushes, red currants, blackberries, and raspberries.  Pie cherries and sweet yellow cherries hang from trees next to two types of pears, plums, nectarines and figs.  The fig tree died back to the ground last year but came back with a force.  Alia hopes it will do same after another frigid winter.
Last year was the first year they could harvest kiwi berries.  Alia said, "At first the kids were apprehensive to try them," so Alia tried, then they all tried the vining fruit and loved them, "they were so sweet!"  According to Alia, this is one of the main reasons to grow food with children and youth, "they have an open mind because their hands helped to nurture it."
Fun in the garden with Earth's Keepers youth farmers and interns!
Even vegetable crops can create a buzz on the farm, "the broccoli blew their mind." remembers Alia.  Looking forward to the 2015 growing season Alia and company have big plans.  They will have more workshops on cooking with the vegetables, canning and preserving the fruit.  They also will start selling houseplants at their farm stand, which is open whenever the Earth's Keepers are on site.  In the summer they will take a boat trip up the Schuylkill and hike Hawk Mountain with the youth.
Asked for one last thought Alia responded, "if it wasn't for POP the farm wouldn't be as popular with the children.  It is a perfect marriage.  Phil brings a whole list of skills:  propagation of trees, and pruning, so it adds another dimension to the farm.  Its invaluable. The orchard entices the children to be a part of it."
Orchard Report by Jessica Mammarella, POP Orchard Committee liaison for Earth's Keepers. 
More POP Survey Partner Stories!
"The orchard is a wonderful space for community education and inspiration. For example, [while] giving an orchard tour during our fall Apple Festival, we pointed out our lemon balm growing as a ground cover in the orchard, and I mentioned its reputation as a relaxing, anti-anxiety herb for tea and tinctures. After the tour, a woman I know from the community introduced me to her mother, who was excited about the lemon balm and wanted to try making teas of her own. They harvested lemon balm and mint from the orchard and were inspired to plant their own herbs in the mother's front yard. I love the orchard's ability to demonstrate the potential of urban spaces and introduce new ideas around sustainability and health."
Nicole Sugerman, Woodford Orchard
"Many days during early summer, people would approach us to tell us how much they enjoy walking [along the fenceline] so they can pick a plum on their way to the store and again on their way home. Some people will walk across the street each day to pick during peach, plum, or cherry season. Often, when the gates are open, a child or their mother will call in to ask if the red berries-raspberries and wineberries-are indeed edible. This access to fresh fruit has resulted in a greater appreciation for fruit; an ability to identify fruits, shrubs, and fruit trees, and an increased awareness of the orchard's benefits."
Aviva Asher, Mill Creek Farm Orchard
"Currently, there are no other open gardens in [Norris Square] providing fresh, medicinal herbs. Neighbors are invited to stop by, learn about and harvest the plants, and take cuttings home for their own use. The orchard is a special space in the neighborhood for people to relax and have a unique experience with the natural world."
Iris Brown, Tertulias Orchard
"[We] facilitated a weekly training for middle school aged students-many who have never tasted fruits and vegetables directly from the field. After eating food they helped to grow, their reactions ranged from amazed to disbelief."
Jerome Shabazz, Overbrook Environmental Education Center Orchard
"For Ms. Lisa, UTC staff and Pearl Street resident for practically her entire life, the orchard is a sanctuary. She can see it from her kitchen window, blooming in the spring and bearing fruit in the summer, and she wonders how she is so blessed to have an orchard in the city."
Sue Witte, Urban Tree Connection Orchard
"My youth were more than excited to give visitors tours of the orchard because at the end they were able to share the mulberry tree and its fruit with our visitors."
Drew Gold, Teens 4 Good 8th and Poplar Orchard
Get Involved!
Donate to help plant new orchards this spring! 
POP's annual winter appeal has so far generated $11,295 of our $15,000 target.  Can you help put us over the top?  Consider a direct donation to POP of any size to ensure we have the resources to continue to plant new community orchards this year:
BERRY BUSH OR VINE, $25
FRUIT OR NUT TREE, $60
POLLINATOR GARDEN, $120
Your Amazon purchases can benefit POP. . . at no cost to you. 
You can direct Amazon to give a percentage of all purchases to POP:
Join POP's Committees 
We're always looking for more good volunteers for POP's operating committees!  To help our Education Committee with developing new educational materials and curriculum, please contact 
Robyn Mello (robyn@phillyorchards.org)
.  To assist our Fundraising Committee with grantwriting, organizing fundraising events, or info about hosting a house party for POP, please contact Prithi and Deanna (info@phillyorchards.org).  Experienced volunteers are invited to join POP's Orchard Committee and work directly with our orchard partners; for more info contact Phil Forsyth (phil@phillyorchards.org).
Tree planting at Bartram's Garden on Philadelphia Orchard Weekend!
Volunteer at Orchard Plantings and EventsTo receive updates about upcoming volunteer opportunities, please sign up for our volunteer list on our website (phillyorchards.org/volunteer/signup). You can also view a list of events on our homepage.

Please use the forward email function below to send this newsletter to friends and family who are interested in our mission to plant and support community orchards in the city of Philadelphia.
Sincerely,
Phil Forsyth, Executive Director
Philadelphia Orchard Project
SUPPORT US!  If you found this entry useful, informative, or inspiring, please consider a donation of any size to help POP in planting and supporting community orchards in Philadelphia: phillyorchards.org/donate.